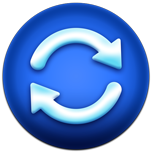 Sync Folders Pro (for Mac, iPad, iPhone, iPod)
for macOS 14 - 10.8 (Apple Silicon, Intel CPU), iOS 17 - 15
Help Video for iOS Pro+ Free Download App Store Reviews for FCP
---
Supports Macs, iPad, iPhone, iPod.

Bootable backup on an external drive (SSD, HDD). macOS 14 Monterey, macOS Big Sur compatibility.

Bidirectional synchronization, one-way synchronization, mirroring backup.

Powerful preview mode. Ability change file operations before sync. "Line by Line" comparison.

Automatic scheduled synchronization.

Synchronization any number of pair folders at same time.

Auto-updating help in the app. Periodically adding answers to frequently asked questions.
Select sync folders.

Select sync mode.

Click "Sync Current Task" button and your folders will be synchronized!

Do not worry about other settings, they are set to the recommended ones.
Create a bootable clone of your hard drive and you can use it if your main drive is crashed.
Sync Folders Pro is perfect for backups to external storage devices including: USB, memory cards, disks on remote computers within your network, folders on Cloud services (Dropbox, etc.) With each re-backup, the app finds and copies only new files and new file versions, thereby reducing backup time and extending the life of your storage devices.
The app can synchronize multiple pairs of folders at the same time "on the fly" using our "REAL TIME SYNC" technology, on a schedule or manually. The Sync Folders Pro also provides robust tools to filter files and folders so that you sync exactly what you want.
Do you have terabytes (TB) of data to sync? No problem! Sync Folders Pro has been optimized to work with extremely large number of files. Sit back and relax, your data is being automatically synced!
9 synchronization modes.

6 file comparison modes allow to synchronize files on the storage devices with different file systems (OS X, FAT32, etc.).

The ability to automatically connect network folders before synchronization and disconnect network folders after synchronization.

Protection for unauthorized disconnect storage devices (folders) during synchronization.

Saving the last/all versions of files to be deleted. Using this mode, you can always restore deleted files, even if folders have synchronized several times.

Quick view the latest changes in synchronized folders.

Ability to log events. You can filter events by type, task, status. Ability to export the event log to an external file.

Ability to send event log by e-mail in case of synchronization errors.

Synchronization of subfolder attributes.